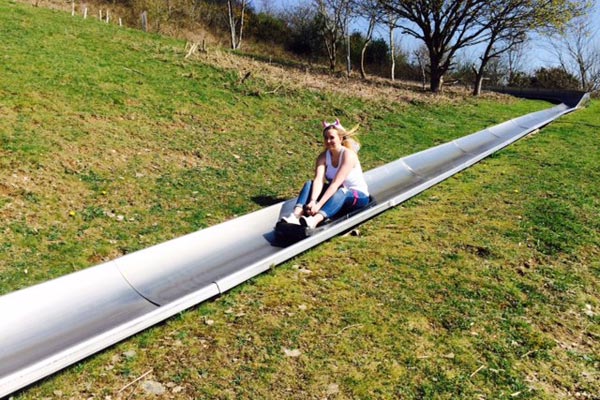 650 metres of sheer exhilaration – ride the uplift before embarking on a fun filled toboggan ride as you twist and turn all the way down to the bottom, enjoying the views of the Plym valley along the way! Fantastic fun for the young and old.
Contact the Ski Centre for more details of operating times and toboggan packages such as birthday parties and organised groups.Please note: Children between 4-7 years must be accompanied by an adult (16+) and children aged 8+ must ride on their own.
Call us on 01752 600220 to book your reservation
Sno-Tubing
Please note: Suitable for ages 4+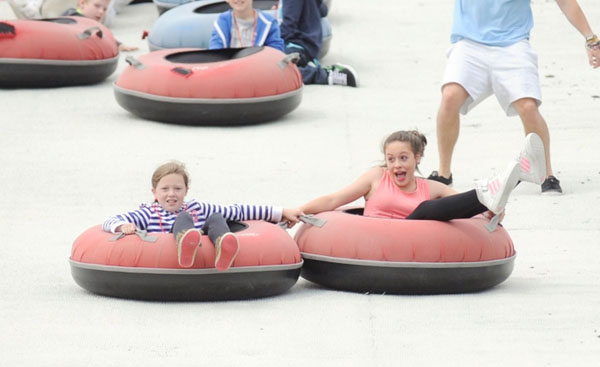 Sno-tubes are large inflatable rings which can be spun and linked together to slide down the slopes. They are safe, fun and always popular with all ages. No prior experience needed! Simply get on and enjoy the ride…
No minimum number to book on a public session. Min group of 10 required to have a private session.
Minimum age of 4 years
Must be booked in advance to guarantee availability
Call us on 01752 600220 to book your reservation
Drop Slide
Please note: Suitable for ages 6+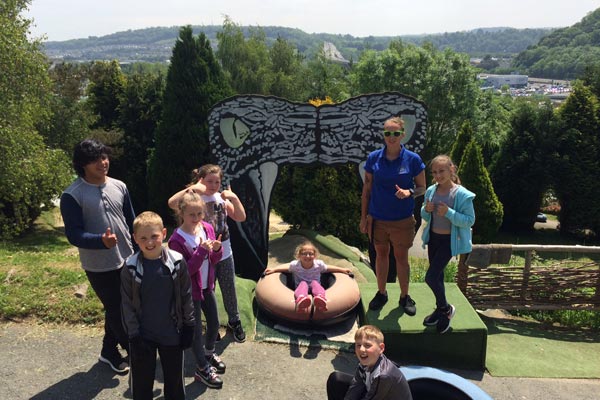 Do you dare to drop the Viper Snake?
A fast and exhilarating tube slide taking twists and turns through the trees from the snake's head to tail.
Rides start from just £1.50 per person
Call us on 01752 600220 to book your reservation
Frequently Asked Questions
Q: What should I wear?
A: For Sno-Tubing it is as simple as dressing for the weather. However, we do recommend long sleeves and trousers. Trainers or equivalent shoes are a must.
Q: What time do I need to arrive?
A: For Open Tubing sessions you can arrive 5-10 minutes beforehand for sign in.
Birthday Parties: If you are having a birthday party with food, please be on site at least 20 minutes before the start time as we have to take the children's food orders and make sure all your guests are on site before we start the session. For birthday parties without food then you can arrive between 10-15 minutes before the start time.
Q: How many people can be on a session?
A: Our ratios are 1-15. This means an Open Tubing session is full once 15 people are booked on.
If you have a private session, we can add as many, as you like. We simply just add staff to match the ratios. Recommend maximum group size is 20-25 to maximise the rides the group have.
If you do have a larger group we can cater two lanes of tubing. This will have to be booked in advanced by emailing Kirsi Goodchild.
Q: What happens if it rains?
A: We are a rain or shine slope, we would only stop a session if there was thunder and lightning due risk of being on a hill in such a storm.
Q: Can I go on the slope with my child?
A: If your child may struggle taking their Sno-Tube up the hill themselves, then parents are more than welcome to help them carry the tube up the slope.
Q: How old do you have to be to Sno-Tube?
A: We can take children from 4 years of age upwards for Sno-Tubing.
Q: How do I get up the slope?
A: We have a lane system for getting up to the start point on our slope. This means tubers slide down on the right and walk up with their tubes on the left. Participants do require a good standard of physical fitness, however, brakes can be taken throughout your session if needed.